About Hamamatsu Zoological Gardens (English)
Hamamatsu Zoological Gardens is a zoo located by Lake Hamana with wonderful natural environment. Of more than 100 animal species raised here, the number of Primates is one of the largest in Japan, and so is the raising experience of them too.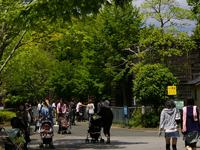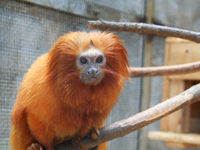 Especially golden lion tamarins who are small monkeys with beautiful golden hairs are very precious because in Japan they can only be seen here (original habitat in Brazil/ endangered species). Besides them, the animals originally live in Japan such as Japanese monkeys, Japanese wild boars, and Sika deer are also raised here.
Since the natural terrain is taken in the gardens, the gardens undulate moderately and have many kinds of plants to be seen when walking. Cherry blossoms in spring are beautiful, and leaves change color in autumn. Come and enjoy Hamamatsu Zoological Gardens!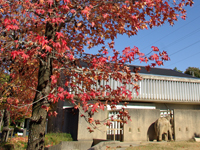 [Opening hours] 9:00 a.m. ~ 4:30 p.m. (Admission before 4:00 p.m.)
[Closed] December 29 ~ December 31
[Admission fee]
High school students by Japanese school system and over or people whose ages are equal to them
410 yen
Junior high school students by Japanese school system
and under or people whose ages are equal to them,
seniors over 70 years old, people with disabilities
*Show an ID.
free
[Parking] Passenger vehicle 200 yen/ day
The gardens are made barrier-free. (You can bring-in or use free wheel chairs.)
Access
Address
199 Kanzanji-cho, Nishi-ku, Hamamatsu-shi, Shizuoka, Japan
By Car
From Tokyo
  Tomei Expressway: 15 minutes from Hamamatsu-Nishi Exit
From Nagoya
  Tomei Expressway: 30 minutes from Mikkabi Exit

By public transportation
From Hamamatsu station of JR Tokaido Line/ Tokaido Shinkansen Line
  Take bus of the "Kanzanji Onsen Line" at the pole #1 of the bus terminal,
  and get off at the "Dobutsuen" bus stop. (40 minutes' ride)
Attention
Do not feed the animals. Do not do mischief either.
Pet animals are not allowed. (except the dogs for the disabled)
The animals are gradually taken indoors from 4:00 p.m. Some animals may not be seen then.
No flash photography please.
The area beyond the no-entry or no-go sign is the administrative zone. No admittance except staffs.
Food and drink is allowed. Please use open spaces and benches, and take care not to disturb other visitors.
Don't drink any alcohol.
No littering. Please put your trash in trash cans or take it home.
When putting trash in a trash can, please follow the sorted collection.
Smoking is prohibited in all areas.
Collecting insects and plants is prohibited.
Please refrain from making a nuisance of plays such as ones with balls, badminton, flying discs, and scooters.
In an emergency, follow instructions given by staffs and escape from danger.
The highest hill in the gardens is 34 meters above sea level.
Facilities
Vending machines (drinks)
Stalls (snacks, souvenirs)
Public lavatories (wheel-in and baby cribs available)
Nursing rooms
Free wheel chairs